A Strategic Evaluation of GPON and EPON technologies
Recently the EPON technology has come to the forefront in Italy, what could be defined as a proud antagonist of the well-known GPON technology.
The proposal of MVNO Iliad, which recently launched an aggressive commercial offer on the Italian market, has turned the spotlight on it but also raised concerns about its technological validity and sustainability.
In this article, we will try to tackle the subject by briefly analyzing it from a technical-economic point of view in order to understand whether EPON makes sense for a Service Provider.
FTTH NETWORK TOPOLOGIES
FTTH architecture (Fiber-To-The-Home) is a fiber-based telecommunication infrastructure connecting the Service Provider's COs (Central Office) with end users' premises (also known as "last mile").
The fiber optics is a media that allows transmission of large amount of data (hundreds of Mbps till to tens or hundreds of Gbps if optical multiplexing is used), so it is suitable for broadband services that need a low latency as well.
This aspect is the major driver for investment in this kind of infrastructure despite the costs for its deployment. A fiber infrastructure is a "future-proof" solution or, in other words, it can easily implement new technologies and transmission speeds without changing. The technological transition from 2G to 5G, for example, has requested a significantly upgrade of mobile access networks to Telco.
The fiber-based access networks use mainly two different topologies: point-to-point (P2P) or point-to-Multipoint (P2MP).
Other topologies (such as cascade or bus) are interesting in terms of multi-wavelength access solutions.
P2P and P2MP topology solutions have well-known pros and cons. P2P networks allow to have a dedicated an easily scalable bandwidth, with a coverage determined mainly by the available power-budget (i.e. the difference between the transmitted power and the sensitivity threshold of the receiver).
On the other hand and without any other network design evaluation that would be too long to illustrate here, the use of a such approach is definitely oversized for an infrastructure dedicated to the consumer market considering that , due to the strong competition in this segment, the margin are quite low with an impact on investment payback.
On contrary, the P2MP topology overcomes this last topic although some compromises, in terms of bandwidth-per-user and network extension, are necessary.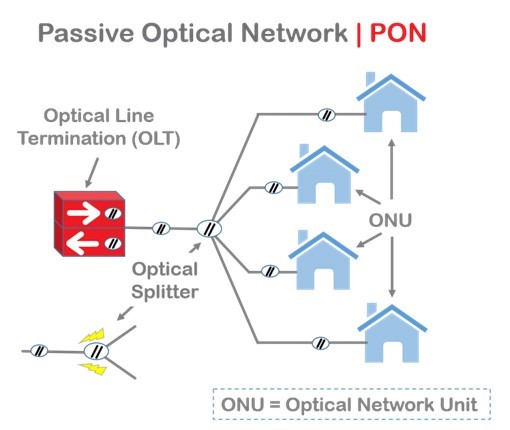 The PON (Passive Optical Network) networks adopted in the FTTH architectures of many European countries, including Italy, belong to the P2MP category.
They are so called because the infrastructure deployed between the central office and the user's premises is totally passive. In other words, the optical signal transmitted from one end to the other of the access network does not cross any active element.
However, the presence of passive (and therefore dissipative) elements such as optical signal splitters, optical muxes, connectors and others lead to a signal attenuation that, beyond the aspects related to the transport technology used, imposes limitations on the extension of the physical network since the power budget available is limited.
The standards bodies have spent several years defining transmission standards for PON networks. Historical considerations aside, today there are two technologies that are the most popular: GPON or Gigabit PON technology and EPON or Ethernet PON technology (or Gigabit Ethernet PON, GEPON).
Even if major players have considered GPON as more suitable solution, recently EPON has come to the fore in Italy thanks to mobile network operator Iliad which, following in the footsteps of its French parent company Free, has launched its connectivity offer on the fixed network using this technology.
Let's try to understand if this choice has a real motivation from technical and economical perspectives and/or it makes sense from strategical view.
GPON AND EPON: A QUICK COMPARISON
First of all, the two standards originate from different international bodies: the ITU ratified the G.984.x (GPON) series of standards in 2003 and only one year later the IEEE completed its version of the Ethernet standard for point-to-multipoint networks, the 802.3ah (EPON).
The timing influenced the massive adoption of the GPON standard in the North American market: Verizon, considering also that GPON offered a native support for TDM services and ATM cells transport was convinced to adopt GPON for its Fiber Optic Service (FiOS).
To date, the most recent commercial versions of these two standards are ITU-T 9870.1 (XGS-PON) and IEEE 802.3av (10G EPON).
Speed rate and coexistence of the different standards. With reference to current commercial implementations, both GPON and EPON offer connectivity up to 10Gbps in downstream and upstream direction.
More in detail, GPON technology, in its first version that establishes the allocation of two channels centered at 1490nm (down) and 1310 (up) frequencies, guarantees an asymmetric bandwidth up of almost 2.5Gbps and 1.25 Gbps in the downstream and upstream directions respectively.
One feature of GPON is that it can allow "slices" of these maximum capacities (0.62 or 1.25 Gbps in downstream and 0.62 in upstream), an advantage in terms flexibility. Nowaday, this feature has no more relevance at all due to the high bandwidth request and related to the explosion of broadband services such as video streaming, HD video conferencing and more.
On the other hand, EPON starts as a symmetric service, without the possibility of bandwidth scaling, with a line speed of 1.25 Gbps in both directions and with a spectrum allocation centered on the same bands as GPON.
In terms of overall transmission capacity (useful bandwidth not considering line encoding), while GPON efficiency reaches 94-95% (depending on which channel, the up or downstream, is considered), EPON collapses below 80%, due to the 8B/10B line encoding for clock recovery, so the useful bandwidth is only 1 Gbps.
However, moving our attention to the 10G version of the two standards (in particular the 10G EPON, or IEEE 802.3av, and XGS-PON, or ITU-T 9807.1. We leave out from this comparison the asymmetrical XG-PON version with an upstream bandwidth of only 2.5Gbps that has found few commercial applications), the differences practically disappear as the 10G EPON reaches an efficiency of 97% due to the 64B/66B encoding.
The coexistence of EPON/10G EPON and GPON/XGS-PON on the same network infrastructure (Optical Distribution Network) has been guaranteed with a correct allocation of the frequencies of the up/downstream flows, allowing operators to reuse the physical network and preserving, in this way, the investments already done.
There is only a consideration regarding the upstream channels at 1G and 10G of EPON that overlap in the range 1260-1280nm. This is an area characterized by a low chromatic dispersion, for which the two channels are separated in the time domain and therefore an ONU supporting 1G EPON can work with a 10G OLT that implements the two wavelengths in downstream.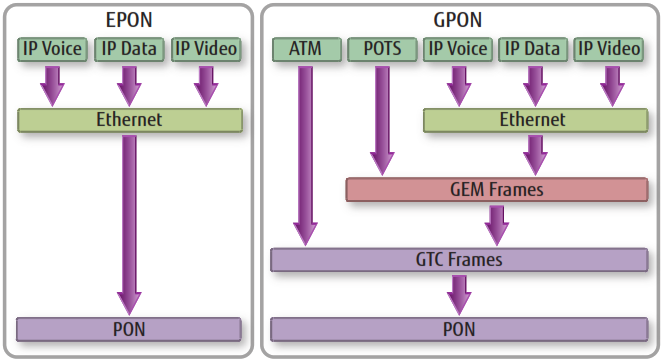 Protocol Efficiency. GPON pays for its initial vocation as a multiservice transport layer for which no less than two layers of encapsulation (GEM and GTC) are provided allowing the transport of native TDM and ATM services as well. This involves a minimum of 43 bytes.
EPON implementation has requested to add an overhead of a maximum of 64 bytes for Multi-Point Control Protocol (MPCP) support to manage the particular network topology.
Splitting ratio: The splitting ratio provides the number of end-users served by a single GPON port of the ONT. With GPON the ratio can be 1:128 while with EPON till to 1:32 (or 1:64 with FEC). It is a common practice to use for GPON/EPON a splitting ratio of 1:64 and 1:32 respectively.
The reason is related to the fact that with a higher splitting ratio more power budget is needed for OLT optical transceiver. In addition to that, a high splitting ratio leads to a lower coverage.
With reference to the symmetrical 10G solution, if GPON guarantees double the number of users connected to an OLT single port, on the other hand EPON offers double the bandwidth per user, which is of particular interest to the end user.
With the same splitting ratio, there is no difference between the two technologies although this choice has an impact on costs.
QoS. Quality of service management is the pain point for EPON. While GPON has embedded mechanisms of traffic distribution based on priority classes (fixed, assured, not-assured and best-effort) for which the bands (or T-CONT service) are dynamically guaranteed to ensure the KPI in terms of lost packets, delay and jitter, the activation of classes of service with Ethernet is possible only through VLAN tagging mechanism.
However, the true question is the following: if 32 active users are connected to a 10G EPON, we would have, as peak value, more than 310 Mbps per-user (in both directions) if everyone made the same traffic in the same time.
With such a bandwidth available in a point-to-point connection for a common residential user, or even if a business company with some hundreds employees using massive cloud services, do we expect to have systematic priority problems or, more likely, service availability issues due to poor server performance or bandwidth bottlenecks at core network level?
Security. Considering the network topology, the signal destined to a specific ONT or ONU reaches all the others as it is "copied" by the intermediate splitters. For this reason, GPON technology implements a 128-bit AES encryption system in the downstream direction (from OLT to ONT).
In a same way, also EPON technology implements authentication and encryption systems based on 128 bit AES algorithms with triple churning but in both directions (downstream and upstream).
This aspect is quite important for a business user because it prevents any upstream traffic in plain text interception if the customer does not adopt any dedicated encryption systems. This implies with an additional cost in order to guarantee the integrity and confidentiality of communications.
OAM. On the Operation And Maintenance side, GPON also reaffirms its supremacy. GPON defines PLOAM (Physical Layer OAM) at the physical layer and OMCI (ONT Management and Control Interface) at the higher layer to perform OAM management on multiple layers.
PLOAM is used to implement data encryption, status detection, error detection, and other functions. The OMCI channel protocol is used to manage the services defined by the upper layer, including the function parameter of the ONU, the type and quantity of the T-CONT the service, QoS parameters, request configuration information and performance statistics, and ongoing events of automatic notification to the system, to implement error configuration and diagnostics, performance, and security management of the OLT over ONT.
EPON relies primarily on the OAM capabilities of the Ethernet protocol being used but that integrated with SNMP or API and TR-069 based management solutions can greatly mitigate management level complications.
Cost. The game here is totally in favor of EPON technology. Starting from the assumption that the cost of ODN, in terms of fibers, splitters, connectors and other, is an invariant for the two technologies, the difference is to be found in OLT and ONU/ONT and in particular in the optical modules used and based on ASICs or FPGAs solutions.
In general, a GPON OLT costs 1.5/2 times an EPON and a GPON ONT 1.2/1.5 times of an EPON ONU.
The GPON technology uses FPGA based products, more expensive than the ASIC ones used in EPON products whose cost has been considerably lowered due to the high demands of the Asian market for EPON solutions.
By the way, the features requested to the GPON transceivers laser by the specs in terms of modulation and rate do not allow to exploit the economies of scale associated with large production volumes.
The technological aspects highlighted above show what was easily understanding. The EPON standard is a evolution of the IEEE 802.3 protocol for point-to-multipoint networks and brings with it all the advantages of Ethernet technology: low cost, flexibility, mature technology and broad compatibility.
The GPON standard is better positioned in the telco industry looking at multiservice and/or multiprotocol networks and the needs for a guaranteed QoS or effective network management.
We can say there is no clear winner in this comparison (and it would be perceived by the market data) so the real key factor in choosing the most suitable technology becomes the end-user.
SO, WHAT IS THE BEST? GPON OR EPON?
To answer this question, we must first gain some insights about the size of the market based on technology and user expectations.
Market size affects the manufacturers' ecosystem ones and, consequently, investment toward a given technology solution.
However, and looking to the history we can find a lot of a such examples, underestimation or regardless of users' expectation can lead to offering solutions with unnecessary features, with the risk of additional costs that the market, to which that solution is addressed, is not willing to pay for.
The GPON standard is quite widespread (especially in the North American market) as it is considered by operators as the most technologically valid solution for the reasons mentioned above. By the way, GPON has a roadmap towards future versions (NGPON2 and NGPON3), compatible with the previous ones with regard to spectral allocation on the ODN.
EPON, with some exceptions in some Western countries, is widely used in Asia, including Japan, China, Korea and other Asian countries where, after all, the PON network market has a relative weight in terms of ports sold. We have seen that, also EPON, has a 10G version, compatible with the 1G version, by allowing the coexistence of services on optical infrastructures. Last, a standardization process of new 25G and 50G versions is ongoing for EPON as well.
The analysis of data provided by different research studies shows that the value of the global chipset market for PON networks is estimated to be within a range of $5 billion to $6.5 billion, of which 35% is based on EPON technology and 27% on GPON technology, with mobile backhaul as the main applications for PON networks.
By excluding other factors that are currently difficult to foresee, the growth trends show that these two technologies will dominate for the next 4-5 years in the PON segment, with no clear predominance of one over the other.
This can lead us to assert, with a good confidence level, that both technologies will be supported by a reasonable level of investment in their development.
At this point, the attention must be moved on market expectations taking into account that GPON technology is more expensive than EPON (GPON costs from 1.2x to 2.0x times than EPON) and that the GPON was born to carry different types of layer 2 protocols, rather than native TDM services, a feature made less significant by the Ethernet technology ubiquity and the migration of TDM services over IP.
If the technology has to serve mainly a consumer market where some of its technical features are weakly perceived compared to others such as connectivity price level and speed, and that some protocol weakness, such as QoS or OAM, can be fixed with alternative systems, then the choice of some Service Providers for EPON does not seem completely senseless.
WHAT IS THE RIGHT CHOICE FOR SERVICE PROVIDERS?
In the book "Blue Ocean Strategy", the concept of "differentiation" as a basic strategy for companies offering products or services has a broader meaning: in order to be free from competition a deep review of own offer portfolio must be done looking to untapped or perceived market niches. That is not enough: a continuous innovation process must be in place because, in the long run, that niche could become a new red ocean infested by the "usual big sharks."
What does it mean in practice for a Service Provider? First, it must be addresses the suitable market: certainly, the consumer market is not very attractive for a Service Provider because of the enormous competitiveness and the low remuneration. On the other hand, using a dedicated PON infrastructure for the business segment, making some considerations, is not very efficient because the potential customer/area ratio is lower than in the consumer case. Sharing the infrastructure between consumer and a certain segment (the largest) of the business segment is surely an advantage.
However, the two markets have different expectations and, therefore, let's recall the technical parameters considered in the comparison between EPON and GPON.
Looking at the solution from end user's perspective (consumer+business), we immediately understand that "top-of-mind" for them are certainly not OAM or the management of QoS and classes of service as much as speed (for the individual customer), costs and security (for a business customer).
This does not mean that the OAM and the quality of service should be neglected by a Service Provider but "translated" into a new concept of availability/reliability of the connectivity service offered, closer to the customer's perception, using different and well-engineered tools for their management and that further reduce costs.
The overlap of the user's expectation with the technical features of the two solutions is almost optimal in the EPON case and can be further improved by taking care of the QoS and OAM aspects as already anticipated.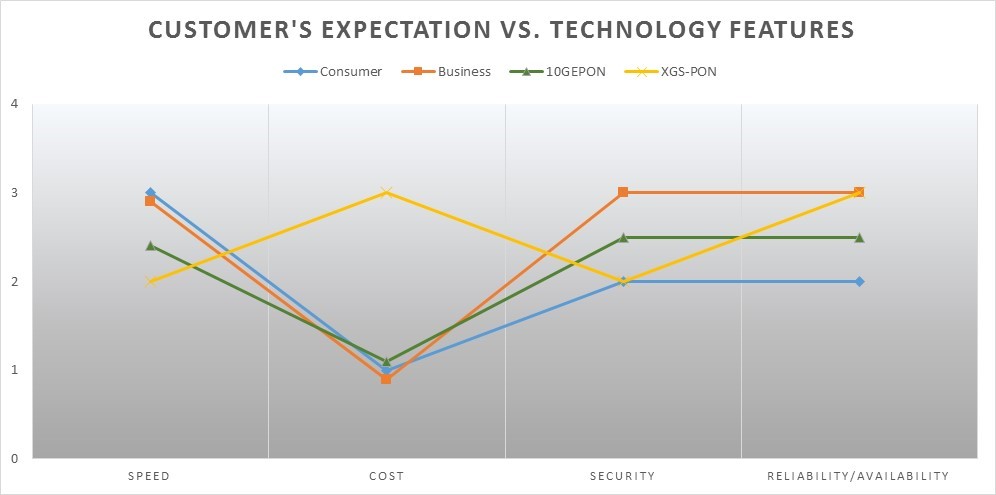 The technological differentiation of solution adopted by others leads to, as said above, an interesting business strategy:
do not use the same technology of other more important operators (such as the incumbents) that can leverage on their market footprint with the suppliers in order to get a better price level reducing cost and exclusive features;
to be more competitive on price level, with still a good margin due to lower technology cost, by offering what is really requested by the client and optimizing (or eliminating) what is not requested (by the market) but contained in a technological solution.
Service Providers are worried by the risks related to an approach based on adopting a different market solution selected by their main competitors.
This can be largely mitigated by choosing a technology advisor with engineering skills to support them in technology selection, infrastructure design and management, so they can focus on the real benefits for customers (especially business customers) and on which OTTs beat everyone: services.
Do you want to learn more? Please contact us here
ABOUT OPNET
OPNET Solutions is a company based on highly skilled people with decades years of technical and managerial experience in ICT, Telco and Energy industries and technologies.
Our purpose is to provide, to big and small companies, high-end tools and resources to empower and grow their business.