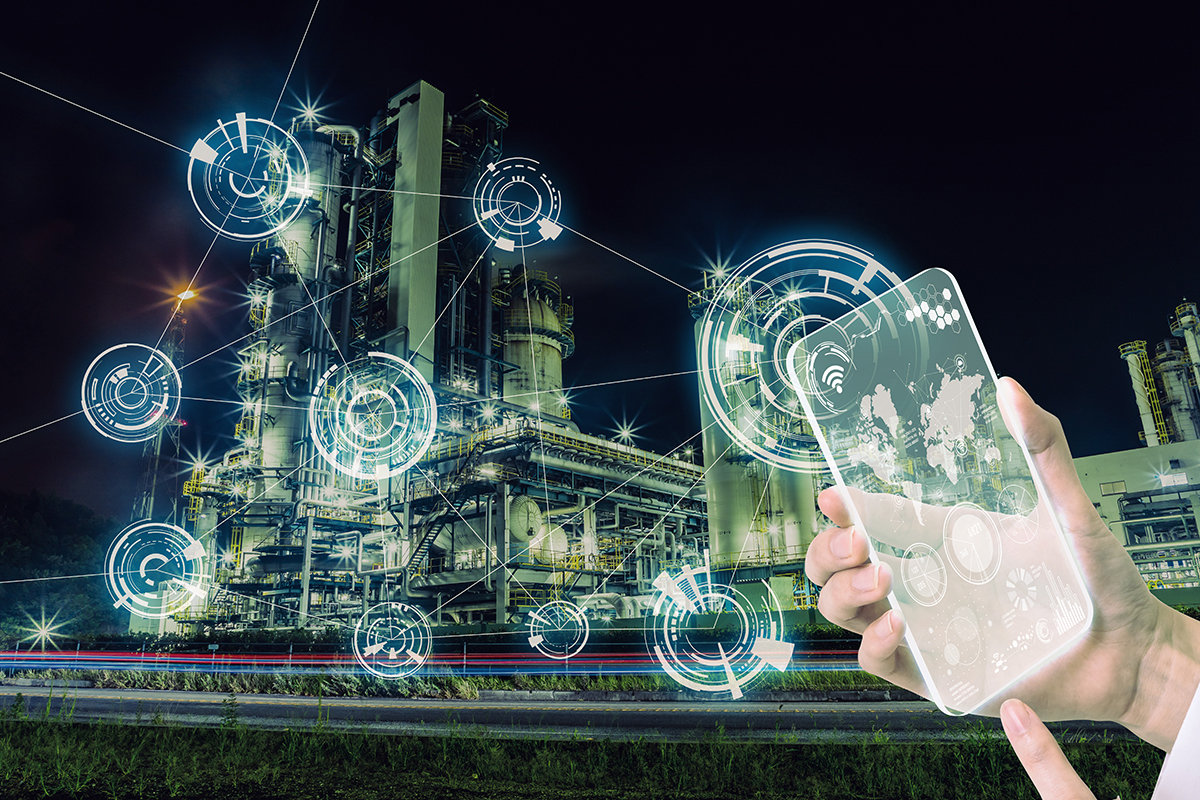 How organizations are preparing themselves to 5G deployment
Organizations need 5G more quickly than many Mobile Service Providers can deliver it. Industrial IoT communications remains the most popular target use case for 5G followed by video while MNOs are focusing on consumers broadband service during their first stage of 5G deployment. Fulfilment with technical and strategic enterprises' requirements as well as with company's budget are two key issues to keep under control.
Sixty-six percent of organizations, from a panel of 185 ones, have plans to deploy 5G by 2020, according to a new 5G use case and adoption survey by Gartner, Inc. Organizations expect 5G networks to be mainly used for Internet of Things (IoT) communications and video, with operational efficiency being the key driver.
Meanwhile, a recent study by Spiceworks found out that 55% of IT business decision-makers plan to adopt 5G devices within a year of availability. Among upcoming 5G-capable devices like smartphones and tablets, around 44% of business decision-makers claimed they plan to purchase 5G-capable modems once available.
These modems with highly anticipated 5G features, such as increased speed and network capacity, could operate as backup internet connections for organizations (i.e. mainly in Italy where broadband network adoption based on fiber is limited within enterprises and PAs market segments as discussed in this article)
Also, 5G-capable modems could encourage network transformations, as organizations may move from legacy connections and infrastructures to embrace new technologies, such as IoT and AI. Modems with 5G capabilities could also expand mobile workforces within organizations or allow for these workforces to emerge, according to the study.
Telecommunication providers are already rolling out 5G but they are in the early stages, trying to keep low their initial investment onto 5G networks (see this article about strategies adopted by mobile operators) so the market expects providers will need years to build out their fully enabled 5G networks.
That means, always according to Gartner, one major issue that 5G users are going to face is the lack of readiness of service providers. In the short to medium term, organizations wanting to leverage 5G for use cases such as IoT communications, video, control and automation, fixed wireless access and high-performance edge analytics.
Mobile operators' 5G networks are still not available or capable enough for these organizations' needs. To fully exploit 5G, a new network topology is required, including new network elements such as edge computing, core network slicing and radio network densification (i.e. small cells).
Top Use Cases for 5G
Industrial IoT communications remains the most popular target use case for 5G, with 59% of the organizations, followed by video (53%).
Even if it already exists other proven and cost-effective alternatives, such as Narrowband IoT over 4G and low-power wide-area solutions, for wireless IoT connectivity, 5G is uniquely positioned to deliver a high density of connected endpoints (up to 1 million sensors per square kilometer) and well-suited to support other subcategories of IIoT that require very low latency as well.
Concerning to the video, the use cases will be varied, from video analytics to collaboration 5G's speed and low latency will be well suited to supporting 4K and 8K HD video content as well as virtual and augmented reality (AR) experiences based on video content.
According to Korean MSIT in May 2019, 5G data has been about 2 times than that of 4G. In Korea total 5G subscribers' amount has reached almost 3M of users. Average data usage by 5G users has been 18.3GB in June and gradually increased to 24.64 GB in August. In contrast, 4G users used 8,66 GB in August with a slightly declining trend in September.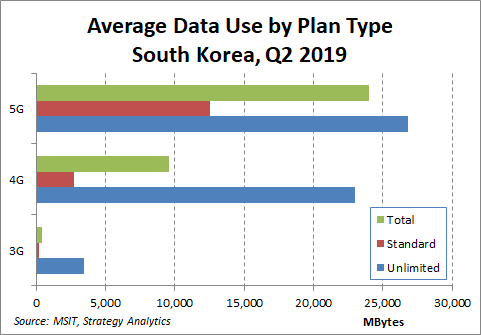 As reported by Samsung, in Korea 20% of 5G data traffic is from AR/VR contents. This remarkable traffic growth is driven by UHD and AR/VR contents. According to LG Uplus, new services featuring AR and VR functions are proving popular and already account for 20% of 5G traffic, compared with 5% for 4G. The company said it aims…
… to double the number of AR content to 1,500 by the end of this year, including K-pop dance, home training and sports videos, to cater to varied consumer needs.
Status of 5G deployment and private networks.
According to different analysts, most of mobile operators will focus on 5G radio first and then on core slicing and edge computing[1] because they are more interested in the early stage of 5G deployment to deliver consumer broadband services. Of course, this will lead to a delay about investments in edge computing and core slicing, which are much more relevant and valuable to 5G project as well as for organizations.
Surely, 5G networks are not going to replace internal organizations' networks, but to complement or supplement those networks. And because current networks are handling application requirements fairly well, organizations have to figure out the use cases that make the most sense for 5G and their strategies.
5G private networks for enterprises will be the most direct option for businesses that want to benefit from 5G capabilities early on. They can be offered not only by MNOs but also directly by infrastructure vendors and not just by the traditional large vendors of infrastructure, but also by suppliers with cloud and software backgrounds,.
A private 5G network can be implemented in two ways.
The first is to deploy a physically-isolated private 5G network (i.e. 5G island) that is independent of the mobile operator's 5G public network (as if building a wired LAN or a Wi-Fi WLAN in the enterprise). In this case, the private 5G network can be built by enterprises or mobile operators.
The second is to build a private 5G networks by sharing the mobile operator's 5G public network resources. In this case, the carrier will build private 5G networks for the enterprises.
Of course, there are many options for 5G private network infrastructure with their pros and cons. Generally speaking, the choice for a specific solution depends on its fitting with both enterprise's technical and strategic requirements (i.e. the matching between company's strategies and/or its market positioning and opportunities powered by 5G technology) and available budget (i.e. implementation and operating costs due to 5G technology adoption).
Many of the anticipated 5G use cases will involve utilizing more data at faster speeds. Meanwhile, a 5G deployment will likely increase organizational security needs and will certainly require both new and upgraded technologies within enterprise IT stacks.
Because of uncertainty about when and where 5G will be available and concerning the fact that this new technology adoption will require an alignment with companies' strategies roadmap, business companies as well as PAs should add some flexibility in the terms and conditions on their contract for a 5G private network keeping in mind their needs could change and their 5G private networks should allow evolving towards these new opportunities.
For these reasons, a shorten contracts policy should be preferred in order to avoid being locked into unfavorable terms as times change or being stuck with a provider who is not as competitive as others when it comes to their 5G advancements.
Last, for Service Providers, it is critical to explore 5G and its capabilities now, in order to determine how to offer 5G services and support customers.
Beyond Internet connectivity, the main services organizations purchase through Service Providers are VoIP, VPN, MPLS, SD-WAN, Unified Communications, Data Storage and, of course, mobile data.
With 5G, the Service Providers can develop much more modernized services to benefit the shifting goals and needs of each organization. And modems and other 5G-capable devices, in the first launch of 5G commercial offer, can also help them in that and, as well, reach more potential customers and extend their services to further locations.
ABOUT OPNET
OPNET Solutions is a company based on highly skilled people with decades years of technical and managerial experience in ICT, Telco and Energy industries and technologies.
Our purpose is to provide, to big and small companies, high-end tools and resources to empower and grow their business.

---
[1] Analysts expect that most of service providers will achieve a complete end-to-end infrastructure of their public networks during 2025-2030 timeframe. By 2022, according to Gartner, half of the mobile operators that have completed commercial 5G deployments will fail to monetize their back-end technology infrastructure investments, due to systems not fully meeting 5G use case requirements.