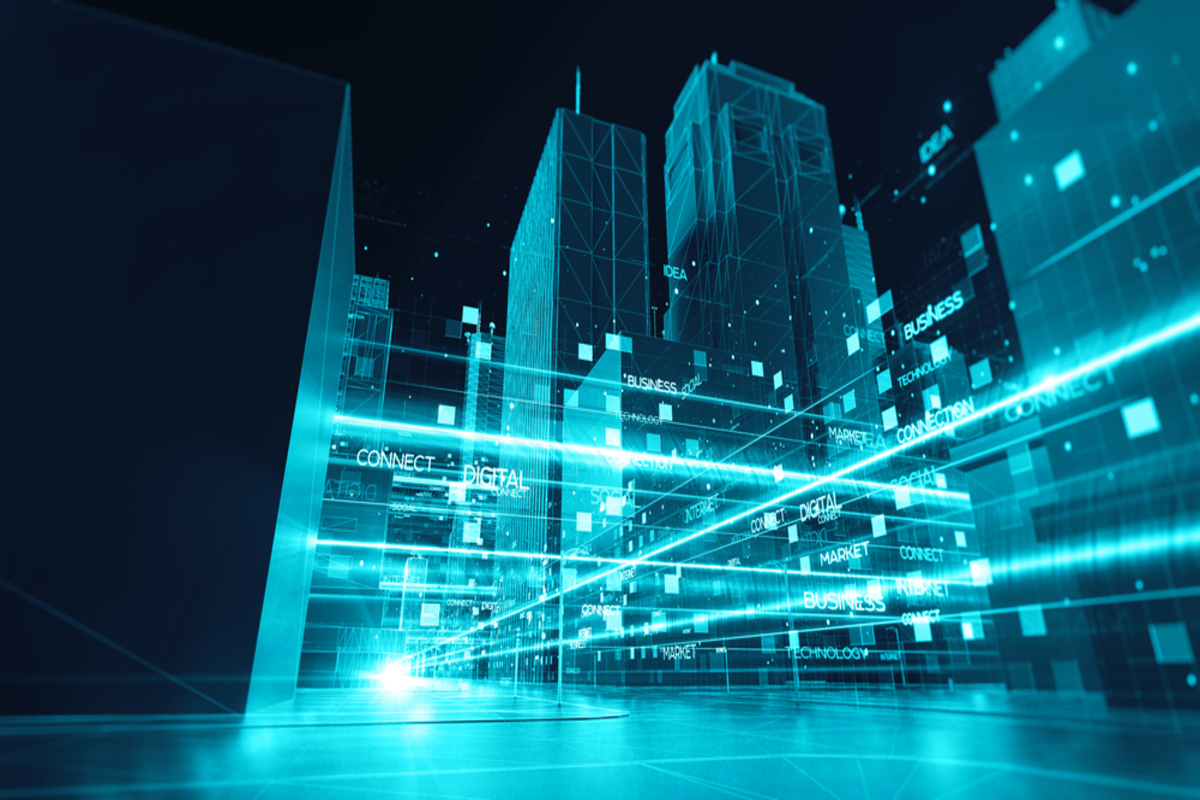 Do we need more fiber for a Gigabit Network or a new strategic vision?
The last AGCOM's report on broadband market in Italy shows that fiber access network penetration has growth from 2005 but not enough for business and PA segment. Considering that a gigabit network based on fiber has a positive impact onto a country's GDP, this is not a good news. Do we need more investment on infrastructure or a different strategy? In this article, we would like to show how, according to us, it is possible to improve network capabilities by only optimizing the existing infrastructure and reducing the investment and time-to-market of a fiber network .
According to the latest report of AGCOM, the Italian Communications Regulatory Authority, the technology mapping concerning to the access network has changed from June 2015 to June 2019 in Italy.
Copper technology (i.e. xDSL) has passed from 92% of connected-users in June 2015 to almost 52% after a period of four years while the FTTx technology adoption has reached the 42% as share.
This result has been possible thanks to the wholesale services offered by incumbent TIM based on Fiber-To-The-Cabinet (FTTC) access technology solution. The FTTC growth has been of 36.8% YoY while FTTH access services, based mainly on PON technology, grew by +49.4%, driven by the offer of Open Fiber, the company owned by ENEL and focused on fiber infrastructure deployment.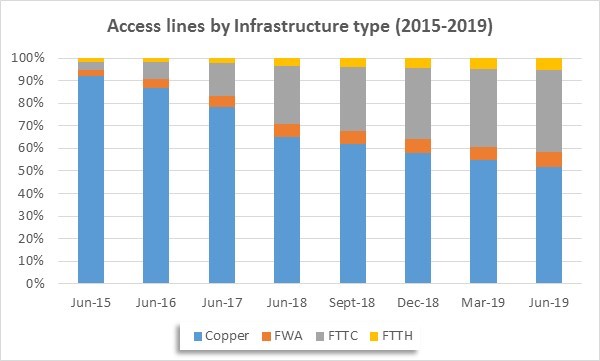 Despite to these results, the business users segment, including PA, represents only the 17,8%, as access lines, of the whole broadband market in Italy. And of this last percentage, only the 16,2% of Enterprises and PAs have a connection with an access speed that reaches 100Mbps based on a fiber technology.
Always according to AGCOM's report, the 78,5% of business lines belong to TIM (41,1%), Fastweb (22,6%) and Vodafone (14,3%).
Some studies have demonstrated a tight connection between the adoption of a broadband access network or, generally speaking, a fully digitalized society and the GDP growth of a country.
Last, a report from Oxera economics has predicted that many social and economic benefits will result from the widespread roll-out of a gigabit network, as increase connectivity changes the way people interact each other.
If, therefore, there are many economic and social benefits to be gained from the adoption of a broadband network, what are the reasons for such a delay and gap with other European countries? Not enough investment or a wrong strategy concerning the broadband network deployment?
Well, a first aspect to be considered is the orography of the Italian territory and the distribution of the population and economic activities on the territory. Almost 1200 mountain towns are not covered by any mobile service so, surely, these areas are not served by any fiber infrastructure. In addition, almost 8000 small towns have no broadband technology like ADSL.
However, the situation is not so better in many other dense-urban areas where there are many industrial districts, like in North-Eastern of Italy, not reached by the fiber yet.
The scenario changes as we approach the main Italian cities but it is not the same everywhere: while the Milan's hinterland several towns are covered by a PON infrastructure, in many small towns around Rome only ADSL service is available as broadband technology.
As highlighted by AGCOM's report, the technology shift from copper to fiber is mainly related to FTTC and FTTH network deployment. With FTTC, a single fiber connects the street cabinet, that it houses a VDSL2 DSLAM equipment, to the Central Office. At present, the above mentioned telecom operators have installed more than 150K street cabinets for a total of 8-10M of broadband lines. Mainly, depending on the copper length, this technology can allow till to 200 Mbps as peak rate with a VDSL2 connection.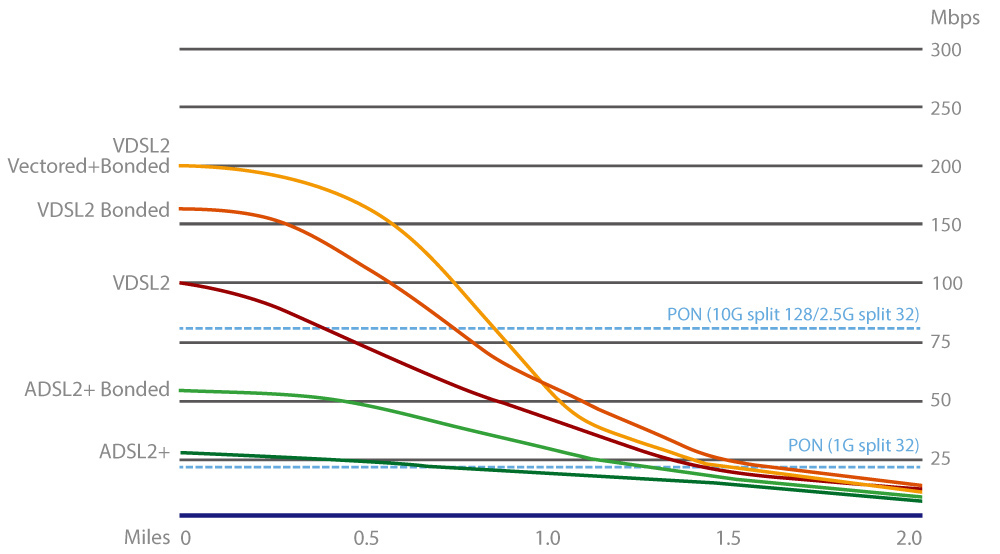 Considering that the uplink rate cannot exceed 1Gbps, every user connected to an IP-DSLAM with 48/96 active lines can reach a max speed of 10/20 Mbps during peak hours, like a good ADLS2+ line of 3-5Km length.
With regard to the FTTH, the AGCOM's report shows a growth till to 1 Million of lines thanks to TIM and OPEN Fiber's infrastructures. The technology solution is based on PON at 2.5Gbps and 1.25Gbps in down/upstream direction respectively, shared among 64 or 128 end-users. On this basis, the lowest download speed rate during the peak hours is within a range of 20-40 Mbps
With the new PON technology (i.e. XGS-PON), a symmetrical 10 Gbps service (shared among users of same PON tree) will be available soon and some manufactures are thinking to propose solutions at 25 or 50 Gbps as symmetrical speed rate with a target price more competitive than TWDM-PON or NG-PON2 technologies.
FTTH solutions are more interesting than FTTC because they are fully passive and do not need any active equipment installed within a street cabinet thus reducing the cost of operation and increasing their reliability in case of power outage.
The plan to deploy a PON infrastructure is certainly behind schedule, as AGCOM has also admitted, but the real question is whether it is possible to reduce time and costs following a different strategy able to speed-up a rapid broadband use by Enterprises and Public Administrations.
While residential users and SoHo can be easily served by a FTTC/PON technology, other end-users such as small medium enterprise (in Italy 92% of active companies) and large enterprise as well as banks, insurance companies, public authorities etc., for different reasons they need a symmetrical access network with dedicated point-to-point links at high access rate (from 1Gbps to 10Gbps).
Not to mention that the mobile access network (RAN), with the launch of 5G technology, will require much more fiber connections than existing ones from antenna sides (i.e. RRH) and baseband ones (BBH, see article ).
Does it make sense to build from scratch a new fiber network for all these business and mobile traffic scenarios?
The costs would be very high. A simpler solution would be to realize a point-to-point passive distribution network that leverages the existing infrastructures. Building such a network is very simple and would allow to quickly offer connectivity from 1G to 10G..
As example of this, we can consider the FTTC infrastructure and a more smart use of its street cabinets. Considering that the three main operators hold 78,5% of business market , using their street cabinets as aggregation point of a point-to-point passive network, you could provide over 1,5M of broadband access lines that, if reserved to business market, represent almost the 40% of the total number of active companies in Italy that could get a dedicated access line with a speed from 1G to 10G.
The picture below shows how, with the use of passive muxes and bidirectional CWDM transceivers, can be reached this target with limited investment and a quick time-to-market.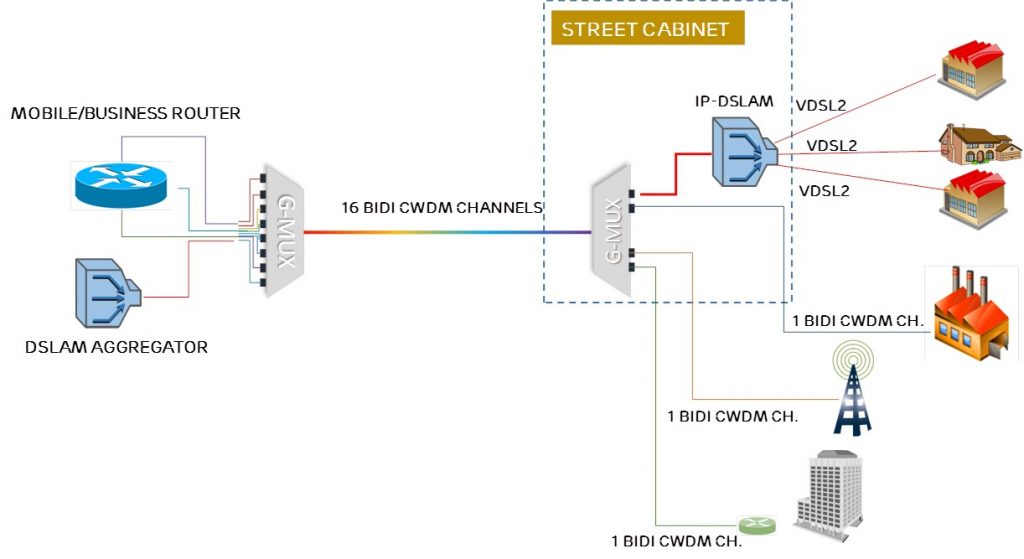 Moreover, this approach can be used for mobile backhaul and fronthaul as well, creating the much desired synergy between FTTH fixed network and mobile networks as discussed in our article.
This simple example of an "efficient reuse" the existing infrastructure shows that, thinking in unconventional way and with a very limited investment, it's possible to easily develop the broadband infrastructure and support the grow of the digital economy in our country.
OPNET has designed and implemented a specific solution for this type of needs and that allows to realize low-cost (compared to traditonal approaches) point-to-point passive networks with a splitted, cascade or ring topology.
Do you want to learn more? Please contact us here
ABOUT OPNET
OPNET Solutions is a company based on highly skilled people with decades years of technical and managerial experience in ICT, Telco and Energy industries and technologies.
Our purpose is to provide, to big and small companies, high-end tools and resources to empower and grow their business.