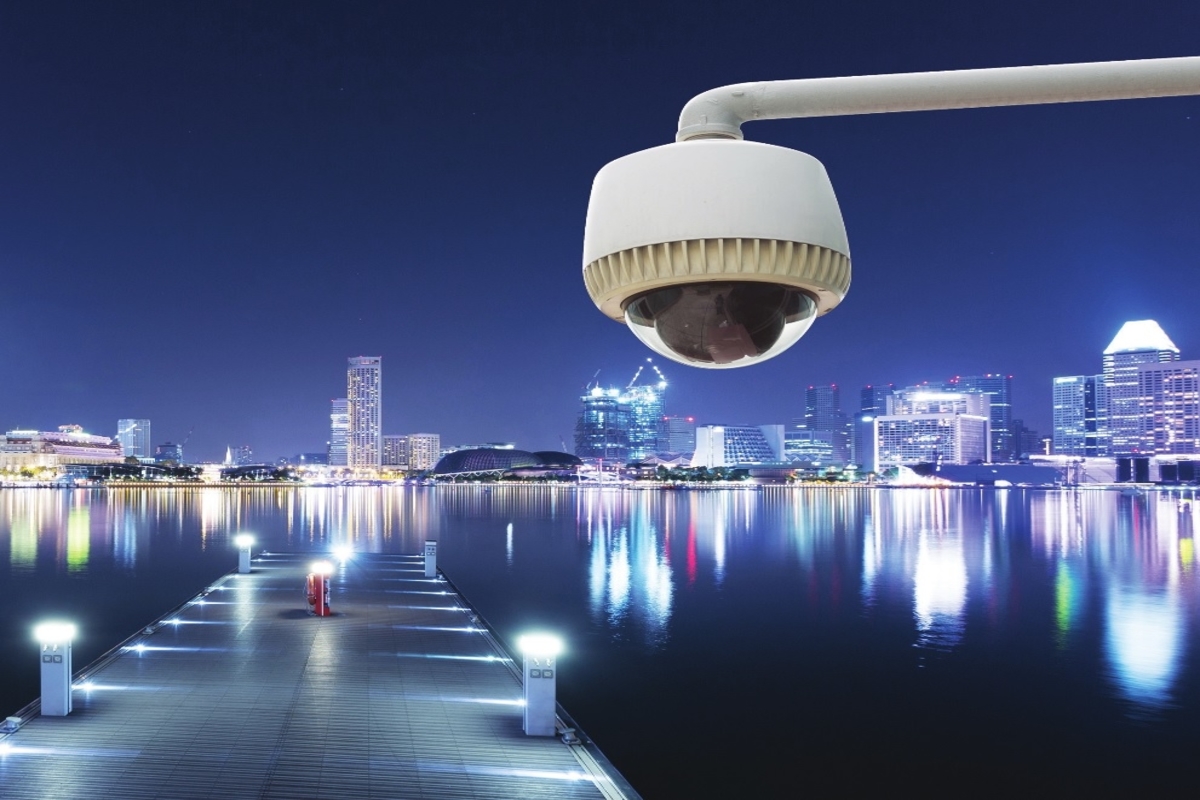 How to simplify network design in surveillance systems with fiber optics
In a video surveillance network, copper cables (twisted-pair) are traditionally used to connect the IP cameras with the control center or the recording unit. In the long-range surveillance installations as well as within a building with a poor cable ducts infrastructure, however, fiber-optic cabling can be a more cost-efficient alternative. The superior transmission features of a fiber-optic cable reduces the need for expensive signal amplifiers or extenders along the way, makes more easier the cabling being the fiber thinner and flexible than a UTP cable. It does not carry electricity, so it can share the same ducts of power cables, and it makes possible to transmit more data at a time.
This article explains how fiber-optic communication can be a suitable replacement for copper lines in video surveillance networks.
CCTV technology has evolved exponentially—from simple video footage monitoring, to today's intelligent systems that are capable of identifying abnormal events or behavior.
As intelligence increases in CCTV systems, so do technology applications. Surveillance technology can now, for example, be used to observe consumer behavior, to help organizations increase their revenue and profitability, and to monitor retail environments to reduce shrinkage. Video surveillance analytics, eventually integrated with Artificial Intelligent (AI) platforms, can assess security-related events using data about foot traffic, face recognition and reconstruction of events from several camera sources.
All this, and even more, has been made possible by the evolution of cameras that make high-definition digital, compressed or not, recordings possible. Digital video can be stored on a variety of media—PC hard drives, Network Attached Storage (NAS) systems or in the cloud-based storage.
Video surveillance application scenarios
Video surveillance systems are considered one of the most reliable methods of protecting various places.
Nowadays, IP cameras are deployed into several places for new uses. Powerful, specialized software applications enable IP cameras to improve security, and perform continuous monitoring with automated efficiency.
One typical application scenario of video surveillance is within office building. Typically, this application poses some challenges in terms of integration with existing networks, and cost-effective network construction related to cabling infrastructure as well as type of switches used.
Another one is within a shopping mall. IP cameras in each zone can perform integrated surveillance by reducing the need for security guard patrols and enhances security and safety. Facial recognition software is effective in the identification of suspicious individuals and shoplifters.
But IP cameras can be also use to deliver video to screens to display live events to catch customer attention. In this application scenario, the major issue is related to the extension of the video surveillance network that it have to cover different areas not always in-sight view of a camera.
As security solution, video surveillance is ideal for stores and multiple open locations like parking. The high definition images provide a clear advantage, because large areas can be covered with fewer cameras. Pan, Tilt and Zoom (PTZ) camera control can be operated remotely, enabling thorough surveillance coverage from a central location. The major drawback of this situation is related to the fact several non-contiguous areas must be covered and it's impossible to centralize all the active network equipment.
Within hotels and warehouses opportunities for crime are significantly reduced by installing cameras to monitor entrances, elevators, parking areas, etc. The surveillance can be used in conjunction with ID authentication to control access to restricted areas..
In the hospital, surveillance can be used to monitor the welfare of patients waiting for treatment and also for staff safety as well as in the schools where parents can check on the welfare of their children by connecting to the surveillance network via PC or smartphone, using a secure login.
All these kind of locations can have several constrains concerning the cabling infrastructure, radio interference, safety etc. and all that can rise several issues in the network deployment.
Also transportation stations like railways and metros as well as any facilities like substations, tunnels and more can be monitored through an IP video surveillance network. In this case, distances to be covered, cabling infrastructure and safety due to the presence of high voltage systems can be important topics to be considered in the network design.
These are only a few examples of use of video surveillance and which limitations can face legacy solutions based on copper. Of course, this massive adoption of these video monitoring systems rises a big concern about privacy so security of these networks cannot be an option.
Video surveillance network infrastructure
Typically, the IP cameras available on the market support Power over Ethernet (PoE) standard. That means power can be provided to cameras over the same Ethernet cable as data, removing the need for separate power cables. The camera needs just a single UTP Ethernet cable run to it from its local switch. This requires a suitable PoE switch.
Power over Ethernet, or PoE, describes the standard which pass electric power along with data on twisted pair Ethernet cabling. This allows a single cable to provide both data connection and electric power to devices such as wireless access points, IP cameras, and VoIP phones.

The original IEEE 802.3af PoE standard (Type 1) provides up to 15.4 W of DC power (minimum 44 V DC and 350 mA) on each port. This power is suitable for VoIP phones.

The updated IEEE 802.3at PoE standard (Type 2) also known as PoE+ or PoE plus, provides up to 25.5 W of power making possible feeding of IP camera or Wi-Fi access point.

Type 3 is the third PoE type, and it is also known as 4-pair PoE, RP PoE, PoE++, and UPOE because it uses all four pairs in a copper cable. It conforms to the IEEE 802.3bt PoE standard, and it can supply maximum power to port of 60 Watts. PoE++ has enough power per port to operate management devices and video conferencing systems.

Commonly referred to as higher-power PoE, Type 4 also conforms to the newest IEEE 802.3bt standard, but it can supply maximum power to port of 100 Watts in order to accommodate the growing power requirements of network devices and IoT. It can even support power hungry laptops and TV.

IEEE 802.at and 802.3af standards used a four-pair cable. They use either pairs 2 and 3 or 1 and 4, but not both pairs at the same time. Conversely, IEEE 802.3bt uses all of the pairs in a four-pair cable, which allows current to flow evenly among them. This innovation drastically improves the amount of power that can be transmitted over a single PoE cable. This means an upgrade to category 6A 4-pair balanced twisted-pair cabling in needed in order to achieve the best possible thermal and power efficiency. This upgrade is necessary because less power is dissipated in a CAT 6A cable, meaning PDs (Powered Devices) will receive more power as opposed to it being wasted due to the inefficiency of an old CAT 5e cable.
As we said above PoE technology enables powering IP surveillance cameras through the transfer of DC electrical power along with data over standard unshielded twisted pair (UTP) cabling. This cabling connects to a network device through an RJ-45 port that injects the power from power sourcing equipment such as a PoE switch or midspan PoE injector.
PoE provides a flexible and convenient means of powering devices that are located in out-of-the-way locations, and saves money by eliminating the expense and difficulty of direct electrical wiring. A challenge with PoE is reaching remote locations outside the distance limitation of UTP cabling. According to the TIA/EIA 568-5-A standard for category 5e cable, the maximum length for a cable segment is 100 meters (328 ft), and PoE power injectors or midspans do not increase the distance of the data link
Fiber optic cabling is an effective method to overcome the distance and bandwidth limitations of UTP, and media converters are a commonly used to integrate copper network equipment and fiber. Since DC power cannot be conducted over fiber, PoE media converters are the solution to extend network distances via fiber to remote IP cameras. A PoE media converter converts the fiber to copper, and sends DC power to the camera over the UTP cabling
Benefits concerning fiber in video surveillance network
There are several solutions available to extend the distances of PoE network links, including PoE extenders, LAN extenders that convert Ethernet to DSL and UTP to coax converters.
Moving on long distance or in environment where capacity, cabling infrastructure availability, safety as well as network topology are issues, however, fiber optic cabling provides several advantages over these technologies
Unlike copper, fiber extends network distances till to 120 Km@ 1Gbps per link with no data deterioration over distance (signal deterioration is to be expected in copper cabling). LAN extenders can only extend network distances about 1 Km, but a data rate of 100 Mbps can drop by 70 percent at longer distances.
Fiber cabling provides security benefits as well. It is a secure medium that generates no electro-magnetic emission (this allow to pass fibers within ducts where power cables are present) and is very difficult to tap by increasing network security
Fiber is also very reliable because it is not susceptible to electrical interference, or data loss due to temperature or atmospheric conditions.
Network Architecture Options with PoE Media Converters
Nowadays the number of IP cameras manufactures that support an optical SFP interface are quite limited. The reasons is not economical but related to the fact that, according to someone, is better to have a centralized system (i.e. PoE switch) that feeds all IP cameras. This approach allow having all the facilities for power back-up/restoration in a single location in case of power shortage.
On contrary, this practice poses, as said above, several limitations to distance, capacity, security and so on with a significant impact on network cost, operations and maintenance.
For indoor application, the issue related to power shortage is negligible because, generally speaking, a power protection from an uninterruptible power supply (UPS) battery back-up system is always available for critical infrastructure like IT platforms.
For outdoor ones, the limitation of roughly 100 meters on distance of IP cameras from PoE switch introduces an important constrain to network design with the need, for example, of additional appliances, like extenders, with a cost growth
Not only. The use of a PoE switch in the control room for all IP cameras does not allow any other network topology than a star (or hub-and-spoke) one. Because cameras are installed in different sites in order to cover as better as possible the area under surveillance, this makes the cabling not so easy as well as much more complicated the network architecture with the need of remote PoE switches (see Figure 1)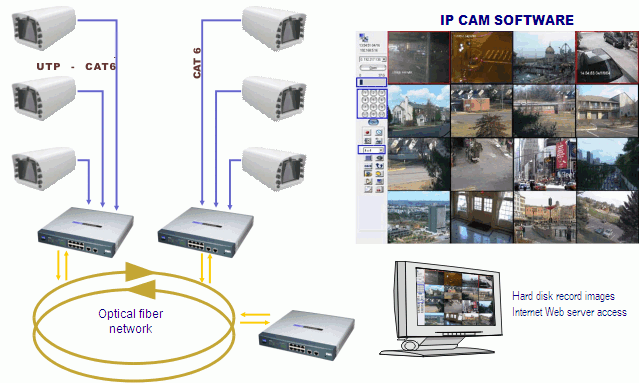 Figure 2 shows how it is possible to avoid all the issues faced in a tradition video surveillance network design. This kind of network can be deployed and adapt to several environment.
All IP cameras are reached by a dual or single fiber cable. OPNET Solutions has developed an IP66 integrated box with a PoE media converter and a CWDM OADM mux. PoE media converters with SFP port support different types of network architectures like linear daisy chain, ring and redundant by providing a reliability much higher than legacy solutions.
CWDM mux at aggregation point allows the multiplexing of the traffic of all IP cameras over a single fiber cable. Every IP camera, connected to its own PoE media converter, transmit data stream on a specific lambda with a bit rate of 1Gbps (but solution at 10Gbps per IP camera with 4K or 8K resolution or multiple streams is also available).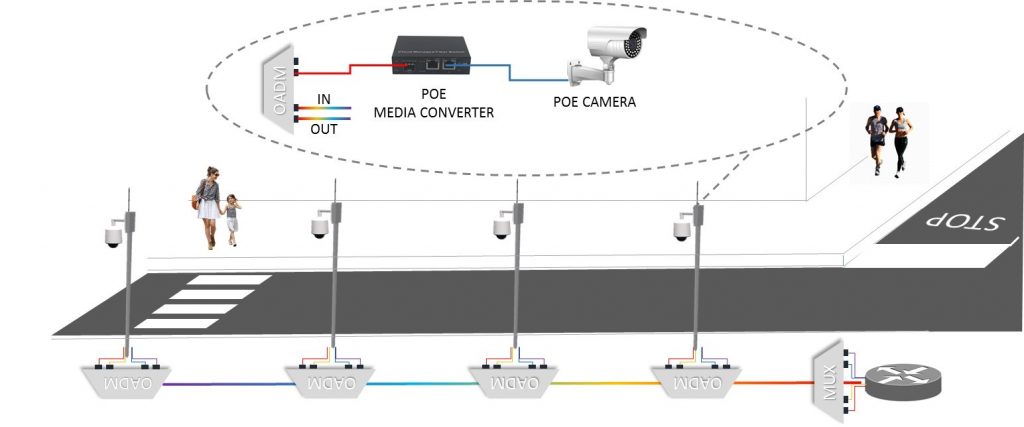 Basically, with a dual fiber cable is it possible to connect till to 16 IP cameras located within a range of several kilometers depending on the power budget of each transceivers and the insertion loss of passive muxes. The same solution of Figure 2 can be implemented with a single fiber using a Bi-Di CWDM transceivers that allocate TX and RX sub-bands within the same CWDM band (see fig. 3).
The design shows in Fig. 2 is quite flexible and future proof allowing the expansion of the network with new cameras just adding the new one to the infrastructure if the power budget is enough.
The architecture of Figure 2 can be configured as a ring by allowing a better fault tolerance to the network in case of link or port failure.
An additional topology to be considered for such a kind of network is the tree architecture based on band-splitter CWDM mux. Differently for a typical CWDM mux, a band splitter separate the whole CWDM spectrum in groups of bands: each output is not a single CWDM lambda but from 3 to 4 contiguous CWDM bands.
This solution is quite interesting when the whole area to be covered by a video surveillance network has several "islands" located in not-contiguous areas and each area needs only of a few cameras
By implementing a tree architecture with a CWDM band splitter, each area can be served by a group of lambdas, each one dedicated to a single IP camera (Figure 4).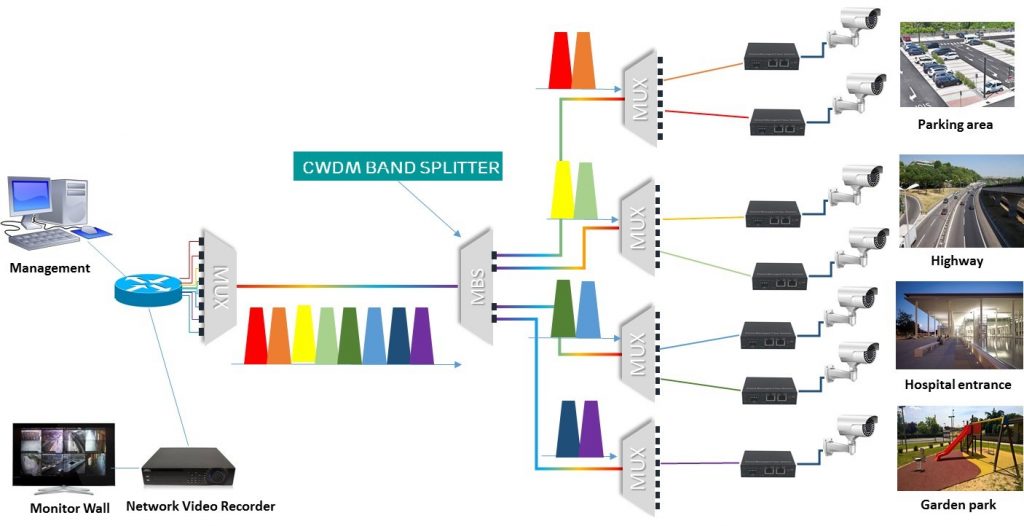 All the examples introduced above show how it is more flexible a fiber-based network for video surveillance system compared with a legacy solutions based on copper cable.
On top of this and as we have anticipated earlier, this approach allows more capacity, reliability, lower power consumption and maintenance (i.e. lower OPEX) and scalability (no need to change cabling moving from 1G to 10G as often happens for cabling based on copper) than legacy copper-based solutions
Do you want to learn more? Please contact us here
ABOUT OPNET
OPNET Solutions is a company based on highly skilled people with decades years of technical and managerial experience in ICT, Telco and Energy industries and technologies.
Our purpose is to provide, to big and small companies, high-end tools and resources to empower and grow their business.