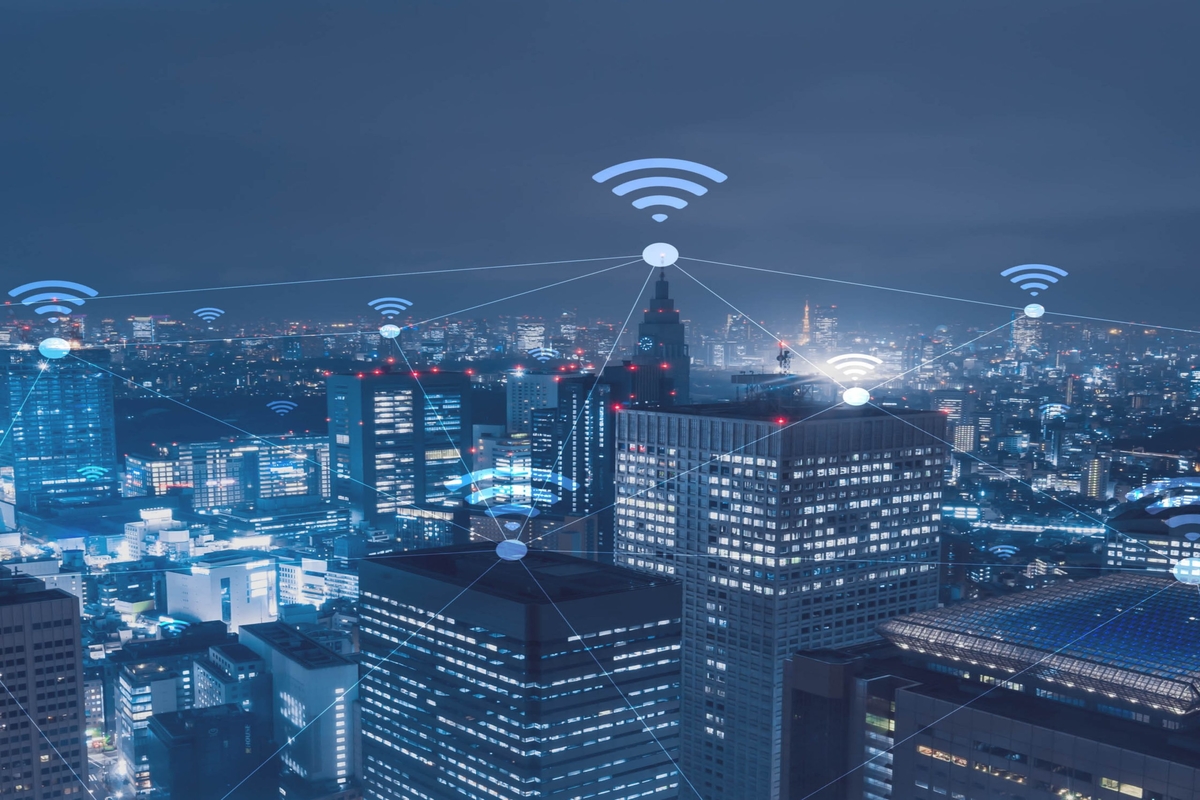 FWA: Market, Applications and Technology – Part 1
Fixed Wireless Access (FWA) enables network operators to deliver ultra-high-speed broadband to suburban and rural areas, supporting home and business applications where fiber is prohibitively expensive to lay and maintain. The advent of 5G is allowing mobile technology to intersect with the demands of fixed line services and price points as well so FWA is becoming for service providers an enabler for enhanced broadband services.
In this part of this article, we will address on market opportunities of FWA with a specific look to the Italian market.
5G FWA DRIVERS AND MOMENTUM

The cost and complexity of delivering fixed broadband has continually challenged the roll-out of high-speed data services. While technologies such as WiMAX have attempted to bypass the local loop or prevent the fiber trench, these initiatives largely failed – primarily because they demanded a completely new overlay infrastructure and expensive proprietary equipment. In contrast, 5G Fixed Wireless Access (FWA) employs standardized 3GPP architectures and common mobile components to deliver ultra-high-speed broadband services to residential subscribers and enterprise customers.
More in details, there are several reasons why FWA is gaining its momentum in the industry related to market, technology and regulatory.
Market: the growing of global popularity of Internet and web services has led to increasing demand for high-performance broadband services. The low fiber penetration and high speed xDSL services availability has opened an opportunity to service providers and carriers to an unserved consumer and business segment for new revenue streams as well.
Technology: improving in network performance at lower cost is making FWA increasingly competitive and good enough for various use cases. This has helped to overcome the limitation of a niche technology like WiMAX with a poor suppliers' ecosystem and no chance to reuse existing infrastructure for providers.
Regulatory: the choice to use 5G technology for FWA making available globally new spectrum in several bands and the governments' action in fueling connectivity and broadband roll- outs through various programs and subsidies in order to speed-up society digitalization (as there is a clear link between increased broadband penetration and economic growth), have contributed to FWA growth.
MARKET PROSPECTIVE AND 5G FWA KEY SUCCESS FACTORS

According to some analysts, the 5G fixed wireless access (FWA) worldwide market is estimated to grow from 396 million of USD in 2019 to more than 46 billion of USD by 2026 with a CAGR of 97.47%.
Of course, there are several drivers influencing the FWA market attractiveness. The main FWA success factors can be divided into four categories.
Operator strategy concerning network development and service enabler/creation.
Network status, like backhaul capacity on metro rings, and spectrum availability.
Market dynamics like population density and operator market presence.
Competitive environment and substitutes like FTTC/FTTH service availability and Government funding to broadband network development.
Surely, it is worth assessing these drivers at national, regional or local level (such as a small city or a suburban area) to gain a better understanding of how successful and profitable an FWA rollout would be in that specific area. It makes sense to carefully select and find the most profitable geographical areas in which to make first deployments.
North America has represented the largest market share in 2019 and always the North America market is expected to grow at a CAGR of 92.48% from 2019 to 2026.
The service segment is expected to account the largest share of nearly 86% of the 5G FWA market, based on offering by 2026. This market will grow from 218.8 million of USD in 2019 to more than 39 billion of USD by 2026 (+110.27%)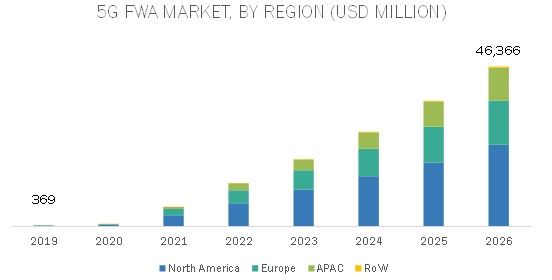 Despite of that and considering the forecast in fig. 1, it's not so strange that FWA is becoming an interesting strategy for many Service Providers and Carriers involved in 5G and broadband infrastructure deployment as well as a new opportunity opened for vendors aiming to address and supply equipment to operators and OTTs for service offering to a still unserved market.
FWA CONVERGED OPERATORS' OPPORTUNITIES
To be competitive, FWA operators need to be able to offer data at very low production cost per bit. 5G FWA is an ideal alternative mainly for residential customers that can get gigabits of speeds at a competitive price, with limited installation issues.
A greenfield operator, deploying a new network for the sole purpose of offering FWA, has no assets to reuse. It has to finance all network deployments and the establishment of business processes and systems, as well as the creation of brand recognition and sales channels.
A mobile or a converged operator is in a more competitive starting point, being able to reuse mobile and fixed network components, as well as business processes from selling fixed broadband.
Surely, a converged operator is in a better position because it can leverage on synergy among FWA, fixed-line DSL, cable and fiber across all market segments for broadband coverage and get an easy interworking with its 5G mobile networks. This provides to him the means for a bundle offer by which it can reach suburban and rural consumers, as well as many industrial districts located in underserved areas with not well covered by DSL or fiber facilities, and offer new added-value services such as high definition streaming services and high-speed Internet access.
5G FWA FREQUENCY PLAN

As said above, previous FWA initiatives failed due to the proprietary nature of the technology they employed. This resulted in a poor ecosystem of equipment vendors and support, which consequently reduced competitive choices and increases prices. In contrast, the 5G supplier ecosystem is already large and continually growing, with the addition of standardized User Equipment (UE), merchant silicon and mobile networking equipment that can be reused for FWA with no modification.
5G Fixed Wireless Access in the lower bands of the wireless spectrum can be used to quickly and cheaply deliver an alternative to wired broadband. In the millimeter wavelengths, 5G FWA can provide a level of service bandwidth capacity comparable to fiber optics. These narrow beams also enable a higher density of users without causing interference. While mmWave penetration through common building materials – including newer types of glass – is low, Customer Premise Equipment (CPE) with antenna's external to the home or office can dramatically mitigate signal degradation. Unlike wired local loops, these could still be readily self-installed by business or residential subscribers.
Providing more than simply a path to enhanced Mobile Broadband, FWA built on a true 5G core lays the groundwork for entirely new service offerings requiring low latency while demanding high bandwidths.
| | | | |
| --- | --- | --- | --- |
| FREQUENCY | FWA? | COVERAGE | THROUGHPUT |
| 700 MHz | No | Excellent | Poor |
| 3.4-3.8 GHz | Yes | Good | Good |
| 24.25-27.5 GHz | yes | Poor | Excellent |
Figure 2: High-level characteristics of proposed 5G frequency bands
Of the three primary frequency bands envisioned around the globe (700 MHz will be available with DVB-T frequency switch-off in Italy in June 2022) for the purpose of 5G, those in the mid GHz range are most appropriate for FWA. Providing superior coverage and moderate throughput, the 3.4-3.8 GHz band is appropriate for low/mid density suburban or rural areas.
While exterior antennas would still likely be required, the 24.25 to 27.5GHz range is suitable for serving higher density suburban locales and cities. Unlike its mobile counterpart, 5G FWA CPE is not space or power constrained and can therefore employ Multiple Input Multiple Output (MIMO) antennas and beamforming techniques on the uplink (UL) at different frequencies to the Downlink (DL), thereby improving upload throughputs.
FWA BACKHAUL ISSUE
FWA has always been seen as a fixing to "last-mile" issue in user's connection to the network. This is partially true. From one side, the operator can simplify the end-user activation, but from another one he needs to carefully plan an appropriate financial and operative effort like for mobile access network.
As it will be explained in the second part of this article dedicated to the technology, FWA is a fast enabler for 5G enhanced mobile broadband but as for all mobile radio access networks, the fronthaul/midhaul solutions for FWA based on (un)licensed technologies have their own performance issues.
This explains why many Service Providers are planning to use a fiber-based Xhaul solution in the 70-80% of cases in order to guarantee better performance and easy integration with 5G macro networks.
FWA IN ITALY
The last 2019Q3 AGCOM report (see here) claimed that in June 2019 in Italy almost 1,3M end-users have been connecting through an FWA access network, with a YoY growth of 11% of broadband access based on this technology.
The importance of FWA in Italy has been well emphasized by Infratel's tenders for broadband network development in Italy. In these tenders, all won by Open Fiber, FWA technology has been considered a suitable solution for 1,5M of houses, about 16,30% of total amount of houses addressed by Italian broadband development project.
FWA providers operate in several frequency bands, some of which are subject to a license granted by the MISE and others freely usable within defined technical and geographical limits. With regard to the former, the auction for the allocation of dedicated frequencies, the 3.5GHz band, was carried out in 2008 (Broadband Wireless Access or BWA).
Leaving to Service Providers the choice of technology to be used for this spectrum, many of them have preferred to move from IEEE 802.16 (i.e WiMAX) to mobile radio access technologies like 4G, 4G advanced or 4G+ and shortly to 5G due to the advantages of mobile ecosystem.
At present, the Italian market value of FWA is estimated to be (end 2019) roughly 300M of Euros. All the FWA operators are members of the Coalition for Fixed Wireless Access (CFWA) which currently represents more than 70 companies with a turnover of over 2,1 billion – of which more than 1.65 billion in Italy – and more than 8000 employees. Estimates of growth in operators' turnover over the next three years indicate an increase of between 300 and 500 million of Euros.
The main FWA operators are Linkem, with about 40% of the market share, and EOLO (37.1%). Tiscali is around 5% (Fastweb acquired Tiscali FWA division in November 2018), preceding Go Internet (3.3%. Last Feb 2019, Linkem has become its first shareholder). The other operators, generally smaller, represent less than 15% of the sector.
Linkem mainly uses 3.5 GHz band. Recently, Linkem and Fastweb have signed a long-term agreement to accelerate the construction of their respective 5G Fixed Wireless Access (FWA) networks and reciprocal wholesale access to these infrastructures for the provision of fiber-like connectivity at speeds up to 1 Gbp/s to end-users.
Fastweb has launched Italy's first 5G Fixed Wireless Access trial with Samsung held on 26GHz of spectrum recently acquired by Fastweb during Italy's 5G frequencies auction in October 2018.
EOLO has developed its own proprietary technology based on 5G one (aka "EOLOwaveG") and uses mmWave licensed bands within 26 and 28 GHz for national coverage and reserved to the operator.
( FWA: Market, Application and Technologies – Part 2)
ABOUT OPNET
OPNET Solutions is a company based on highly skilled people with decades years of technical and managerial experience in ICT, Telco and Energy industries and technologies.
Our purpose is to provide, to big and small companies, high-end tools and resources to empower and grow their business.